Coaching Wheel| How to Gain Clarity About Your Life
Sometimes, life can be chaotic because we have so much to do in life. And we only have 24 hours a day.  We need to balance between work and life. If we focus on career/business only, our life will suffer. We will probably lose our balance in life.
If we don't enjoy our life anymore, it's time to check what's wrong and analyse our life. The assessment tool to check a life balance is called the coaching wheel. It is also called the wheel of life because the wheel is divided into segments and they represent key areas of our life.
"Those who feel satisfied with their personal lives are more satisfied with their careers and perform better." 😉
― Michael Hyatt
I
magine that you are riding a giant wheel, and this giant wheel is called the wheel of life. In real life, if your wheel of life isn't round, you will have a rough ride.  You will be swayed from left to right, from top to bottom.
If we ignore our work-life balance, we may suffer physically and emotionally.
We feel unhappy, and it's hard to achieve growth.
What we don't pay attention, they will perish.
And you are not alone.  Many people suffer signs "out of balance" silently.
To lead a happy life, we need to pay attention to all areas in work-life balance.
Happiness is not a matter of intensity but of balance, order, rhythm and harmony. 🙂
Thomas Merton
If I transfer this giant wheel into a pie chart, the wheel of life or the coaching wheel looks like this.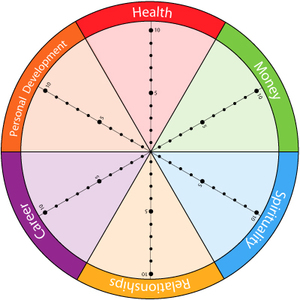 We divide the pie chart into 6 to 8 key areas of our  life.
The wheel of life is a great tool to start if we are not clear of what you want or do in life, and you sense that you need to improve the quality of your life.
You can use the wheel of life for self-reflection, or if you work with a coach, you can ask your coach to guide you ask powerful questions to bring the clarity.
In coaching, we use the coaching wheel to help the client identify the area which she needs to improve in order that client brings the balance back into her/his life again.
Normally, there're 6 to 8 slices in the wheel of life as you can see from the image. This is one example of the wheel.
You can give a name for each slice such as: health, money, spirituality, relationship, career, personal development.
I allow flexibility for my client to rename the key areas or segments so they have the ownership of this wheel.





Once you are clear about the key areas of your life,  you will discuss each area with your coach.  The coach will listen actively to you and ask powerful question without judgements, allowing you to make the current assessment of your reality and situation.  You need to give a scale from 0 to 10 with 0 means you are not happy and 10 is you're satisfied with it.   Once you know where you are right now, you can discuss the opportunities and possibilities of improvements with your coach.
When you become clear of your current  reality, you can set up a plan to take actions for each key area.
The wheel of life exercise is designed to help you gain a clarity of  your overall life, the reality vs the expectation.
I also encourage  my client to set the new expected scale, what it looks like when you achieve your expected scale.
By doing this exercise, you bring a clarity of what is lacking in your life. You are encouraged to take actions to create your ideal expectation for each segment.
To motivate yourself, you can add the purposeful statement for each segment.
Don't just write up and take note, be creative to create a card for each segment. You can place the card at the designated place to be visible and to remind you of your purpose and action plan.
For example: you may put career/business  or family card on your working desk, and health/fitness card  in your kitchen to remind you that you need to eat healthy food.
Why is it important to assess our life balance?
"Balance is not something you find, it's something you create"
― Jana Kingsford
If you are interested to assess your life, click here to get the coaching wheel assessment for free. Please note that you need to fill in your name and email, so we can send you the result after you take the assessment.:D You will get a free template of  the coaching wheel too.