Entrepreneur Tips, What Inspires You?
Entrereneur Tips, What Inspires You?
Inspiration is important for Solo Entrepreneurs. If we have inspiration daily, we're more motivated to work to achieve excellence. Without motivation or with low motivation, we just want to do it and we don't want to push ourselves to do more.  So, what inspires you?   If you like to be inspired, visit my Facebook Page, Viviana. I post AprilSpiration, Inspiration for the month of April.
I'm so glad to join 30-day challenge Inspire. I have documented all the posters 30-day Inspiration which I made and posted on Facebook into a 2 minutes video. I hope to share the joy with my readers and fans.  What did I learn from the challenge? I'm sharing entrepreneur tips, the benefits of doing the challenge:
I learned to create my own inspirational message without copying from other Big Gurus.
Doing the challenge together gave competitive spirit.
I exercised my creativity by having one idea per day.
I loved the challenge. Joining the challenge boosted my self-confidence.
Completing the challenge gave me good feeling. I like to win.
It's so fun to comment and to learn from other people during the challenge.
I would encourage you to take up the challenge if you have the opportunity.  So, here is the example of one of my poster: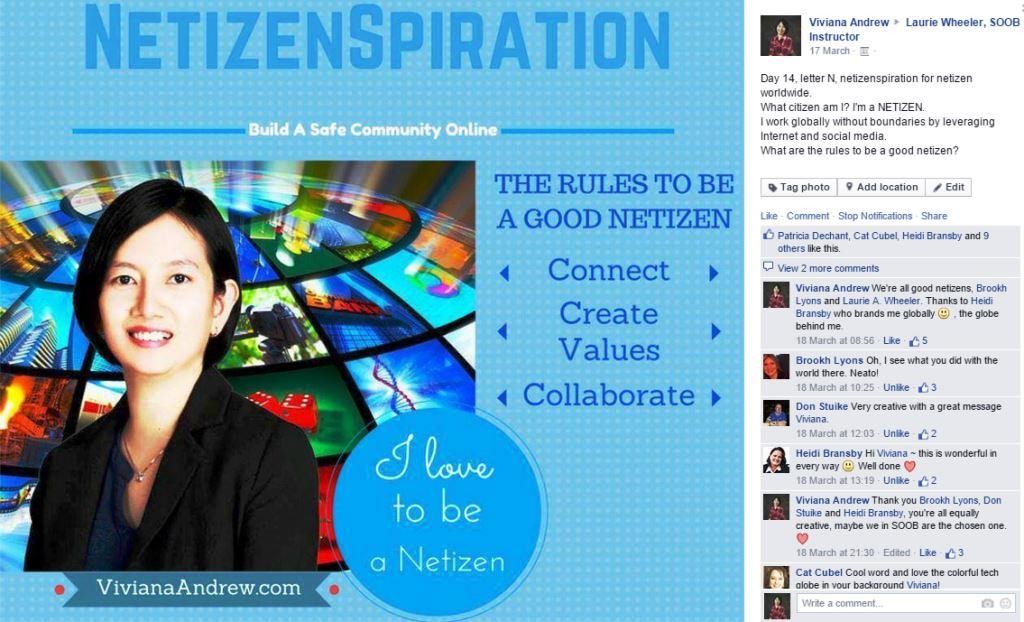 Here it is the video of 30-day challenge Inspire. I hope that it will inspire you as well. Enjoy the video, Entrepreneur Tips, What Inspires You in A to Z inspiration theme. Cheers!