Living Without Limitations – 30 Stories to Heal Your World
Living Without Limitations – 30 Stories to Heal Your World was launched on the 11th April 2014. This is the second book of Living Without Limitations series. I was glad to be part of the team led by Anita Sechesky. The reason why I decided to be a co-author of the book is that I wanted to share my story to empower people to overcome their limiting beliefs in their lives.
 About the book:
This book can help Heal your World in so many ways! It raises your self-awareness. There are many people who are broken and in despair for various reasons. We keep this resentment inside unconsciously and reject the pain. The reason behind these true-life stories is to help you understand that no matter what you have been through in life, you are not walking alone. There are many other individuals who have also similar situations, some even worse than your own! Don't let life's pains and heartaches ruin your life any longer. Discover how these authors healed themselves and offer you hope once more. Start living without limitations that will help you achieving your potentials. With so many self-help books out there, wouldn't it be nice to find one book that shows how powerful the human mind, body and spirit really are? Let this book show you how victory and healing can still happen in your life. Get the book here
 "Living Without Limitations-30Stories to Heal Your World"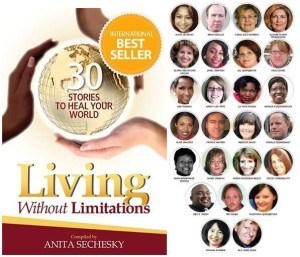 I wrote the chapter The Power of Unconditional Love Helps Me Transform My Rejections and Inspire My Life in this book. In my years of doing online business and being a coach, I know that the biggest challenge of most people comes from internal. They have limiting beliefs. I am not perfect, but I don't allow my imperfection to limit my life.
They believe that they don't deserve to be successful.
They believe that they can't do it.
They believe that they are not good enough.
In the book, I shared my life story about how I transformed my rejections with the power of unconditional love and Inspired my life. I want to help you overcome your internal obstacles and turn them into possibilities.
The key to motivate yourself is by loving yourself unconditionally. If you love yourself, you deserve to have a good life, don't you? As a coach, I believe that everyone can be successful and coaching is designed to develop your potential for excellence. Please contact me if you need my help.
Please share this article/post or leave your opinion in the comment box below. Thank you.
Enjoy the video that I created for the book Living without limitations – 30 stories to heal your world.