Transformation, How Does It Literally Happen?
I recently watched Disney movie "Aladdin". I like watching Disney movie because I like magic and I believe in magic. Do you believe in magic too? I felt like I was transported to another world when I watched the movie wholeheartedly. I enjoy the magical animated movie, the singing and the story. And I find that in every fairy tale, there's a story of transformation.
Today I'm going to share the four sets of questions, how transformation actually happens. These four sets of questions shared by mentor coach Matthew George Rajiv.
Let me tell you that the transformation started with awareness, by questioning ourselves, why, why we should do this.
When Aladdin found the lamp, he had an ambition to change his life, to live better.
Aladdin used to live as a thief and he believes that he was born as a thief. His life was about to change when he found a magic lamp and the Genie who could grant him three wishes of anything his heart desired. He said to the Genie, "I wished that I were a Prince so I could marry my dream girl, Princess Jasmine."
Genie replied to him, "Your wish is granted, my master." Aladdin declared to himself, "I'm Prince Ali from Ababwa, I'm no longer Aladdin, the thief."
Why do we need transformation and keep evolving?
People whose value is GROWTH always seek transformation.  One of my values is GROWTH, I am curious about my capability. 
"Should we not strive to reinvent and update ourselves and to adapt to the ever-changing modern conditions? After all, my friends, hasn't the era changed?"
And the 2nd stage of transformation, what improvements have you made in terms of values and skills during the Transformation process?
Although Aladdin was granted the status as Prince Ali on the outside, he still needed to work hard to embrace the new identity in the inside. Genie became his trusted adviser and said, "I can change you on the outside, but I can't change you in the inside. You need to learn how to truly act like a Prince."
I find that the road of improvements has no end. In order to make improvements, we will face roadblocks to overcome inner challenges such as the resistance to change because of old habit pattern and self-limiting beliefs.
It is important for me to join good organizations such as Toastmasters and International Coach Federation because I see an opportunity for transformation within the organizations. We could learn to acquire professional development skills and good values from these organizations.
And the 3rd stage in transformation is what is your breakthrough?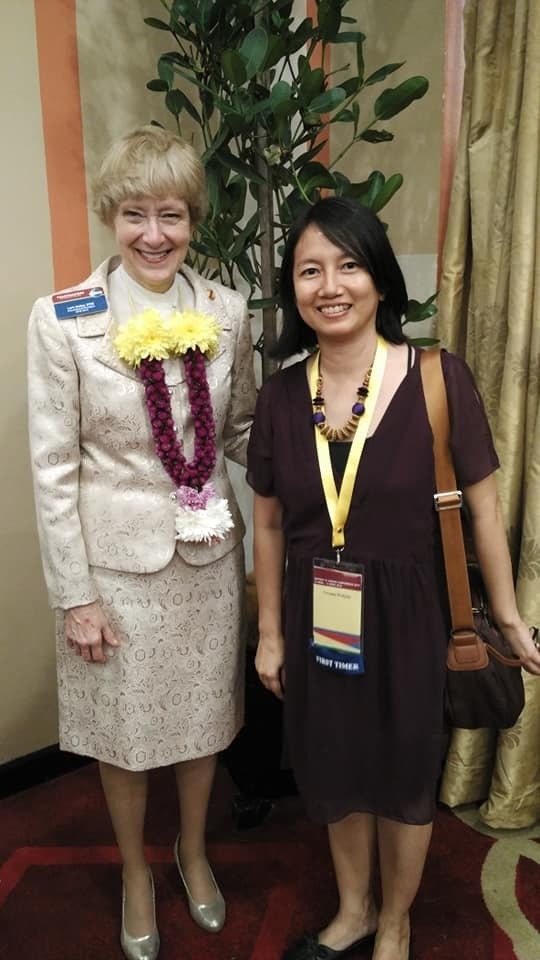 My breakthrough was when I met with the president of Toastmasters International Lark Doley in the district 51 Toastmasters conference recently and listened to her sharing of wisdom in the educational session. Wow…I have never imagined that I met the top person in the organization, and took a picture with her. She encouraged us to continuously add skills and values which will be useful for our life and career. Those skills and values are golden nuggets.
Another breakthrough in my coaching world is when I volunteered during International coaching week 2019 with other coaches from International Coach of Federation Malaysia.
I encourage you to attend conference, join challenges or contest or volunteer to make a breakthrough.
And finally the 4th stage in transformation is what new identity and belief do you want to embrace?
Before, I was only a stay at home mom. If I didn't improve myself, I would be left behind when my children grow up.
The path I choose help me upgrade my new identify and new beliefs.
In transformation, we believe Human potential for greatness. We don't just merely exist, let's transform ourselves, experience LIFE more and expand our potentials. 
How do we find the magic lamp and the Genie in the 21st century? 
I can tell that opportunities presented around us is the magic lamp if we are willing to work on it, and the genie could be your mentor or your coach whom you partner with.