Business Wisdom to Navigate Year 2022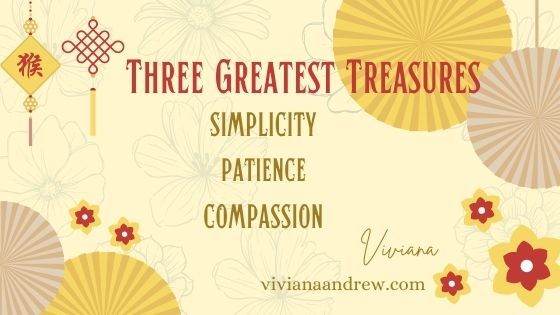 Are you still searching for the next best strategies for your business development and growth in 2022?
What if you need is wisdom, to make a connection with a deeper meaning and to give you a direction and purpose for your business in 2022. Then, turn the wisdom into your value and strategies.
I recently found a Chinese proverb that has profound wisdom. I quite like the three greatest treasures, the teaching from Lao Tzu: Simplicity, Patience, and Compassion and they are relevant in dealing with chaos and complexity today.
Simplicity
In the midst of complexity, don't we need simplicity? The solution to complexity is simplicity. With simplicity, we will save time, cost, and effort and we will create more time for personal, family, reflections, rest and relaxation. Simplicity helps us not get caught up in our thoughts and emotions.
Reflections on Simplicity
How would you like to be selective on the information you want to receive? I would prefer to rely on one-stop learning resources like International Coaching Federation website, Mindvalley. I can store my insights and notes in Mindvalley after learning. Use software like ClickUp to organize information and store your notes.
How will your life and business improve if you learn to be organized and de-clutter things you no longer need?
How can automation and streamlining the business process help you to simplify the business?
Patience
Patience is linked to emotion regulation. How well can we stay calm and positive in dealing with unfavorable circumstances and people? How does patience teach us when we have failures or make mistakes? Patience will help us feel peace and harmony with ourselves. We will be able to find the solution and possibilities when we are calm. Building a business takes patience. Patience leads to resilience and tenacity.
Reflections on Patience
What areas in life and business do you want to cultivate patience?
What causes you to be impatient?
What are the 3 things you can do to exercise patience in life or business?
Compassion
For entrepreneurs who only focus on results, any setbacks may cause disappointments and anger. Compassion helps us to bounce back, to be compassionate with ourselves and others. Compassion helps us appreciate more, reduce anxiety and we will be able to be resourceful again with positive feelings.
Reflections on Compassion
What do you appreciate in your life and business?
If you have a setback, what compassionate act will be helpful for you?
I believe that simplicity, patience, and compassion serve as a holistic approach in building the business for solopreneurs. If we approach business with these values or wisdom, we will be less entangled in chaos and complexity, we enjoy being in the business connected to simplicity and our heart.